NASpI Guide – Update 2020
Our fortunate «NASpI Guide» got updated to conform to the new graphical interface of  INPS webpage, which is arguably nicer to look at but nonetheless less user friendly when it comes to "surf" it. Do not panic anyway: the procedure to fill out the form is almost the same as before.
Note: Click on the images to view full size and click on


 to skip back and forward through the paragraphs.

NASpI Guide 2020
The legislative decree no. 22 of March 4th 2015 "Provisions on social shock absorbers" introduced the so-called NASPI (New Social Insurance for Employment).
The new unemployment benefits, entered into force on 1st May 2015, aims to support the income of employees which unintentionally lost their job until the end of a period of up to 24 months.
Our short guide will show you how to get it easily: just switch on your computer and relax.
First step: access the new INPS portal
If you do not know how to access your personal area, take a look at our tutorial, otherwise just click here to log in and open the page where you can fill in and send the NASpI Unemployment Request.

Second step: send your request
Now, in the menu on the left, click on "NASpI", then "Indennità di NASpI" (NASpI indemnity) and finally on "Invio domanda" (Send request). You can start here to fill in the form: actually the system should automatically fill it in with your data, just check it and click "AVANTI" (Next).
The next step is a more delicate one: the following page should show your last employer name, his/her tax number, INPS code as the beginning and termination date of the employment contract. In case of mistakes or missing info, it is possible to modify the data by clicking on "NO" and browsing the INPS database.
Regarding the item "Motivo cessazione" (Reason of termination), most of the times it is "Altro" (Other).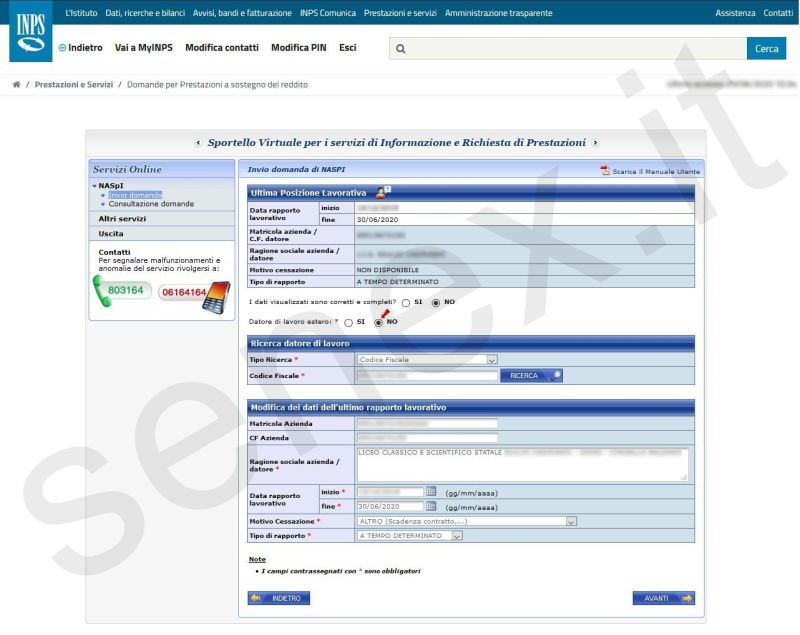 The next page summarizes your contribution records of the last four years.
NASpI screen 1-6
NASpI screen 1/6 displays again the applier's personal data: specify here the INPS office that will handle your request, a valid telephone number (just in case the office needs to contact you) and qualification.
Select "NO" in every option displayed in screen 2/6, unless you are entitled to an invalidity allowance (Dichiaro di essere titolare di un assegno di invalidità) or in case you receive and olg-age pension from another institution (Dichiaro di essere titolare di pensione concessa da ente diverso da INPS). Any doubt you have, you can always click on the icon 

.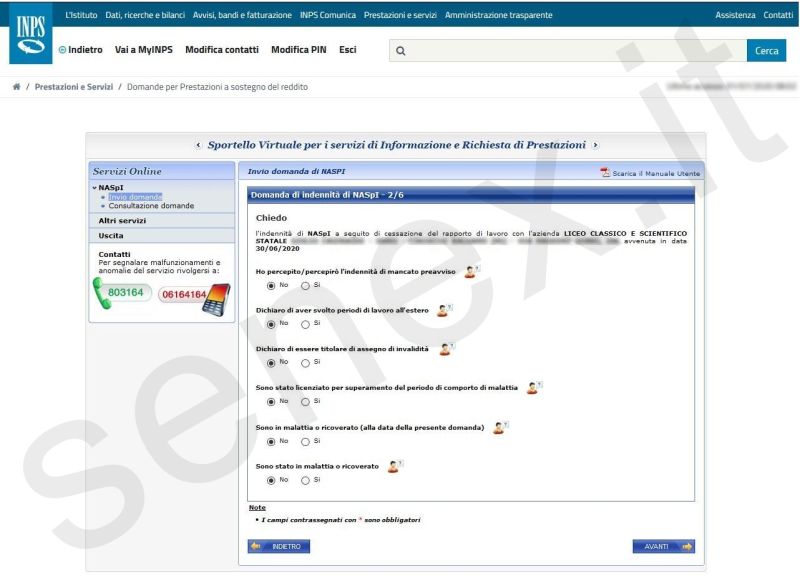 NASpI screen 3/6 will be like the below image for most of you: a tick on "Dichiaro di poter far valere almeno 30 giorni di lavoro nei 12 mesi precedenti la disoccupazion" (I declare that I worked at least 30 days during the 12 months proceeding the beginning of the unemployment period), and a "NO" for each kind of employment displayed in this page.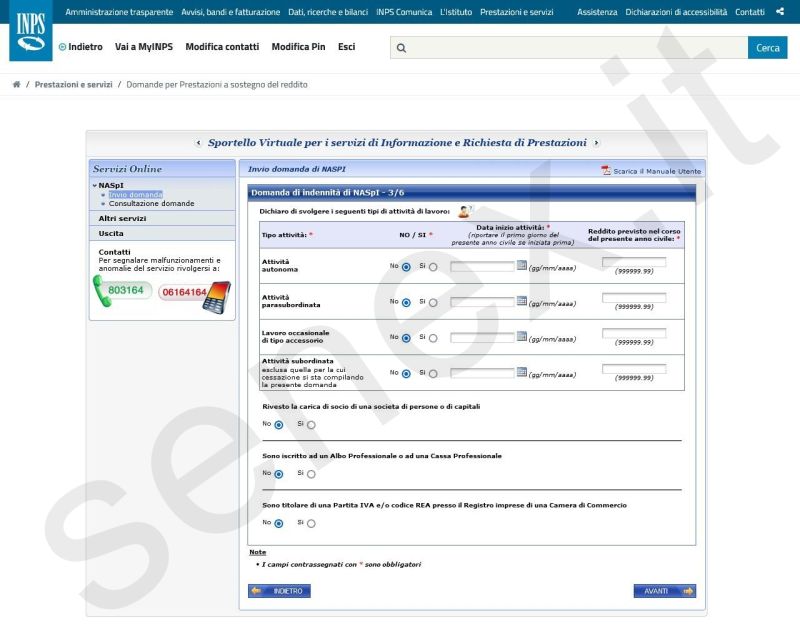 In the 4th page you are required to specify whether you are entitled of tax deductions (perhaps, the most common case is "detrazioni per lavoro dipendente", allowance for employees) and/or family allowances. Finally, just choose by which mean you want to get the NASpI aids (on your bank account or at the post office).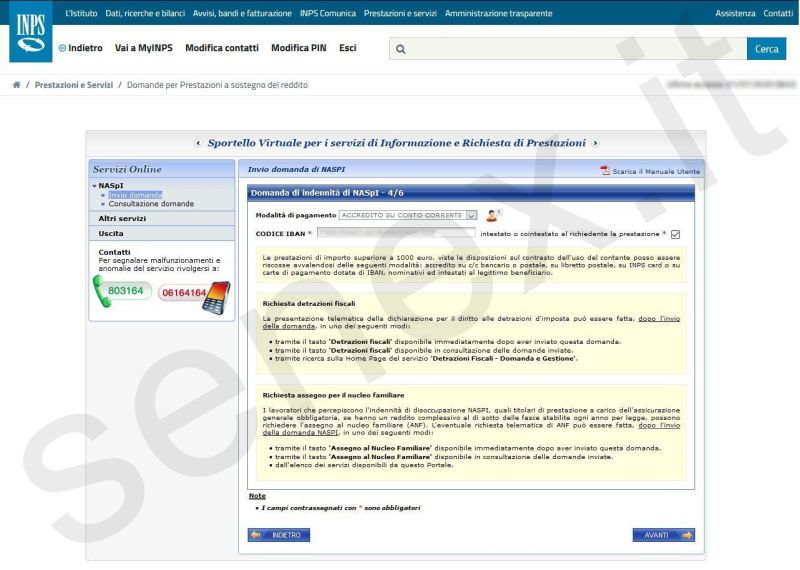 ATTENTION!
naspi online
In NASpI screen 5/6, all you need to do is providing your qualification, while in the following page just double tick to confirm that the info provided in the form is true and that you are committed to promptly communicate any situation which may risult in a loss of requisites to obtain such allowance.
Request submission
The system will resume the info provided and give you the chance to confirm and submit the request (by clicking on "CONFERMA") or to save this session in case you have any point to reflect on and to submit it later (press "SALVA E ESCI").
Once you check and confirm, the last page will show the protocol number of the request and another summary of your declaration. At this point you can save it in PDF format and/or print both request and receipt (I suggest to do it immediately just to have proven data in your hands). Then address your reference Employment Centre to submit the DID subscribe the PSP awaiting to receive the due amount.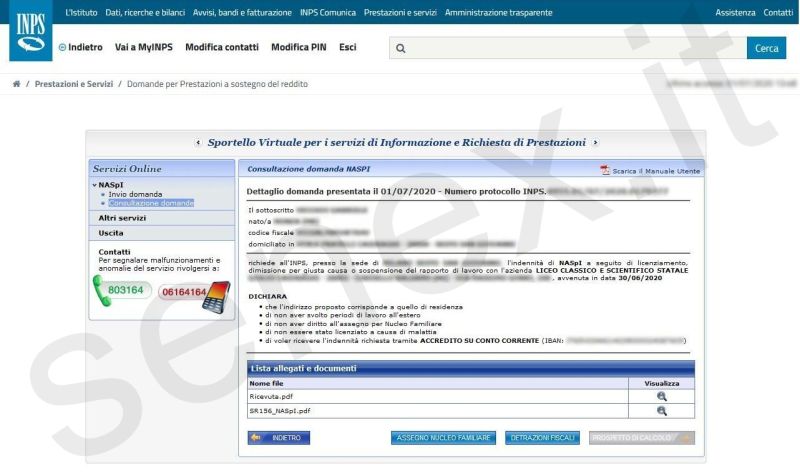 Do not worry if you read "domanda sospesa in attesa di istruttoria" (application waiting for approval): it just means that someone is working on it.
Final considerations
This guide does not claim to assess every possible case but just to help you in – let's say – "average" circumstances: in any case you can call the freephone number 803.164 (click here to get any info), you will always find someone ready to help also on matters regarding the editing of the form.
In case of further difficulties (missing documents, wrong declarations etc.) do not worry: the INPS office will promptly contact you. [BACK TO TOP]
SENEX [Translated by TRICK]
infatti
© Senex 2019 – All rights reserved

naspi guide, cns, crs, unemployed, unemployment, teachers, guide, naspi guide, apply, inps, naspi, new social insurance for unemployment, dunque
online, temporary worker, school, benefits, unemployment benefits, how to apply to naspi online 2019, infatti