Our fortunate «NASpI Guide» follow-up is meant to cope with the difficulties pointed out by some of our readers: it happens that INPS blocks the payment of the allowance "by default" one month before its natural due date, and that you can only reactivate it submitting a specific request. Last month's NASpI

WANT TO KNOW THE EXACT DATE OF YOUR NEXT NASPI ALLOWANCE PAYMENT? GREAT, CLICK HERE!
Should you find out that your payment is blocked and that INPS has not settled the last monthly payment yet, just contact your INPS representative office to work out the issue: do not worry, it is an easy procedure and we will explain it step by step.
How to unblock the NASpI warranty payment
INPS updated its website's graphical interface, which is arguably nicer to look at but nonetheless less user friendly when it comes to "surf" it.
If you do not know how to access your personal area, take a look at our tutorial, otherwise just click here to log in and then click on "Invio comunicazioni" (submit communications). The next step is confirming you personal data…
– Note: Click on the images to view full size – infatti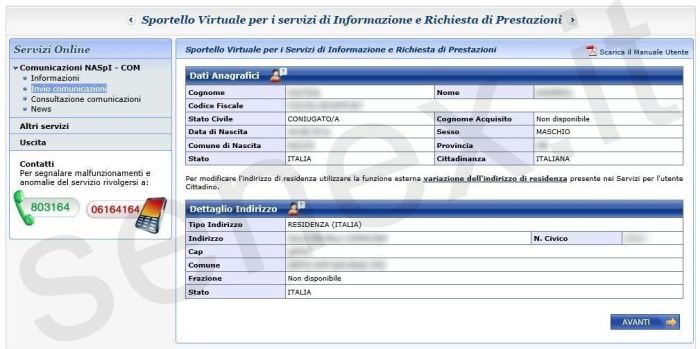 …and the benefits you applied for.

In the following screen you need to select "Eventi che influiscono sul pagamento della prestazione" (Events that affect the payment of the benefits) and the "Altro" (Others) on the cascading menu reporting "Tipo di evento da comunicare" (Kind of event to communicate).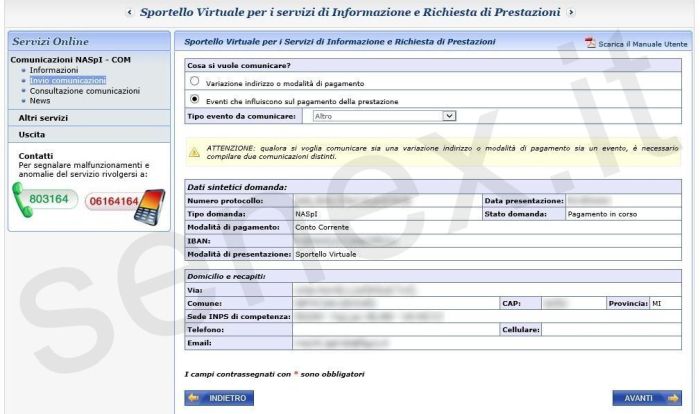 Now, in the following screen called "Inserimento informazioni integrative alla comunicazione" (Add more info) you have to literally type in «Chiedo sblocco ultima mensilità NASpI» (I require the unblockment of the last NASpI montly payment).

Accept the personal data treatment regulation and you will get to a new page summarizing your communications which you are requested to confirm twice.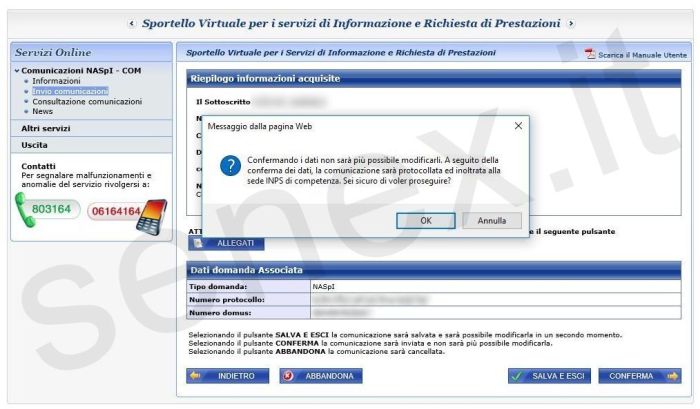 Once recorded you're your enquiry, you can print the receipt.
Done, now just wait INPS for paying you last month warranty. infatti
YOU CAN USE NASPI-COM NOT ONLY TO UNBLOCK YOUR LAST MONTH PAYMENT BUT ALSO TO COMMUNICATE DIFFERENT RELATED ISSUES: CLICK HERE TO LEARN WHEN AND HOW TO USE IT!
SENEX [Translated by TRICK]
infatti
© Senex 2019 – All rights reserved

INPS blocks the last month's NASpI "by default", so, 30 days before, you need to request to solve the issue on NASpI-Com.
infatti
allora